So I've been boo'd at my house before when my kids were little. Leave it to a teacher blogger to figure out how to do it online!
I've been boo'd by Corrina over at Officially a First Grader. Make sure you go visit her and grab her "Book of Seasons" freebie!
Link up at her blog and then blog about 3 fellow bloggers:
one who has
more
followers than you,
one who has about the
same
followers as you, and
one who has
less
followers than you.
Highlight their blogs with links, so others will check them out.
Don't forget to let your fellow bloggers know that you shared about them.
Lastly, leave them a goody from your store as a "treat"!
Now it's my honor to pass "Boo" a few of my blogger friends!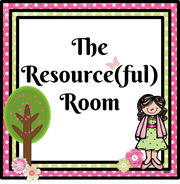 Gotta love a special ed. teacher! Kudos! Check out her site and her freebie super cute monthly binder covers!
Has a cutie blog! That little owl is adorable! Kell has some awesome freebies for Kinders:-)
And finally...here's a brand new kid on the block!
She has some great freebies for ya and she needs some followers!
Wow, that took for-ev-er! It was fun checkin out these sites and I hope you'll check them out too.